UtechSmart offers people the highest quality gaming products while embracing the needs of each customer they service. Their product lines get constantly updated with the latest technology while attempting and maintaining the strictest of high-quality standards of each product leaving the production line. Some of these gaming peripherals that we will be reviewing from UtechSmart are the upgraded version of the Saturn Keyboard, UtechSmart Venus 16400 Gaming Mouse, and UtechSmart USB 2.0 to 10 /100 Fast Ethernet LAN Wired Network Adapter, Bluetooth Adapter, and the USB Card Reader.
1. UtechSmart Saturn Marquee Gaming Keyboard with Backlit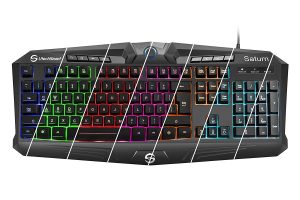 So if you guys are looking for a great cheap gaming keyboard then I would definitely recommend the upgraded version of the Saturn Gaming Keyboard. Even though the keyboard is such an inexpensive gaming delight it surely brings a lot of features to the table. You will probably first check the build quality of upon receiving but let's just say you won't be disappointed. It's built with a decent plastic housing producing a bit of flex to it when bending.
You will also notice a non-removable wrist rest to it and while this may be a discomfort to some especially gamers I think typist would just love the extra feature especially for those long typing marathons that lead to wrist and hand fatigue. On the bottom, we have the small raises with anti-slip feet that work extremely well during gaming.
The keys feature a soft touch coating while the membrane keys ensure for a good overall tactile response. However, the membrane keys might take some time getting used to especially when coming from a mechanical keyboard. The Saturn Keyboard also offers a ton of other features like:
Media control keys to access media functions on the fly and a Windows lock key for possible gameplay interruptions. Adjustable multi-color backlit LED, breathing capabilities, and automatic breathing transitions. The Saturn Keyboard even has interchangeable direction and WASD keys something that you don't expect from a low budget keyboard. In my opinion, the Saturn Keyboard has more lighting customization settings than bigger and more expensive gaming keyboards.
Now you might ask yourself what makes this keyboard so special, well at the bottom you will find 10 drain holes allowing spilled beverages to drain through making the Saturn Keyboard waterproof. Overall this is an impressive budget gaming keyboard that will satisfy your gaming/typing need.
2. UtechSmart Venus 16400 MMO High Precision Laser Mouse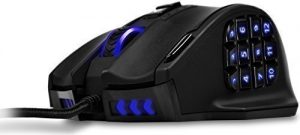 The Venus 16400 MMO Laser Mouse looks like some tech gadget from outer space, but don't get fool this is one of the UtechSmart top performing products currently on the market. Overall build quality is good even though this MMO mouse weighs as little as 150g without the weights. You can increase the weight of the mouse by placing extra weights in weight storing department which is located underneath the mouse. The mouse is nicely ergonomically shaped with a nice soft rubber surface for extra grip.
The Venus gaming mouse is fitted with a high precision laser mouse making moving across any surface like a breath of fresh air. The mouse also comes with adjustable DPI settings of 16400 but doesn't mean the higher the DPI the better tracking you will get or even a better sensor quality. In my experience for best tracking gamers prefers a DPI setting of 800/1000. Included in the package is an extra set of Teflon feet in case the existing pair wears off.
There are also 18 programmable buttons on the Venus MMO Mouse, 12 which is located on the right side for a unified click. Each of these 12 buttons provides a tactile click while the front 6 buttons will be comfortable to click the 3 furthest buttons will need some grip adjustment for an effective click.
Each of the 5 profiles can be saved using the software provided with the mouse and each profile has their own 5 DPI settings. The profile colors can be set to different colors like red, purple, blue, yellow or green to choose from. The mouse is incredibly beautiful and designed to fit nicely in the palm of your hand. Make sure to check out our other gaming mouse reviews for competitive FPS gaming.
3. UtechSmart USB 3.0 Multi-in-One 4-Slots Card Reader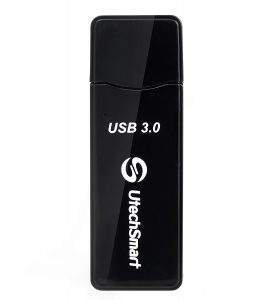 The USB 3.0 Card Reader allows for faster data transfer between PC and memory card (transfer rates is subject to the speed of the memory card). Thus said the card reader won't improve speeds of a 2.0 memory card itself. Upon installation, you should see a flashing LED light confirming the device is in working order. The UtechSmart USB 3.0 card reader is compatible with various SD cards which require an adapter for the card to fit in. The card is BUS powered and doesn't require any external power supply in order to work.
4. UtechSmart Bluetooth Adapter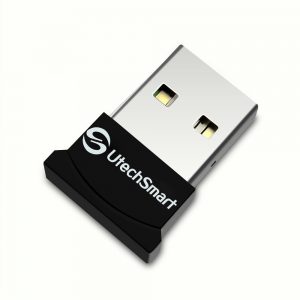 Bluetooth adapters are so small it can easily get lost when taken out of the USB port. When this occurs you might deem your wireless keyboard and mouse useless unless you get a Bluetooth adapter with the same frequency range as your old one. With the UtechSmart Bluetooth adapter, you can safely use your existing wireless keyboard and mouse.
The UtechSmart USB 4.0 Micro Adapter with its compact design is small enough to leave in your laptop when traveling while using the latest Bluetooth technology v4.0. This adapter is even compatible with older Bluetooth equipment. It also supports different operating systems like Windows 7, 8, 10, Raspberry Pi and Linux with a wireless range of up to 10 meters.
5. UtechSmart USB 2.0 TO 10/100 Fast Ethernet LAN Wired Network Adapter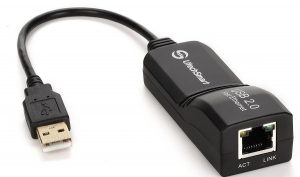 The UtechSmart Fast Ethernet LAN Wired Network Adapter add a faster network wired interface to supported computers, mobile devices, and consoles which run network cable operating systems. No driver is needed to install and the device is powered by the USB port with two blinking LED's showing power and link activity.
The Wired LAN Network Adapter works seamlessly on Windows 7, Vista, and Windows 8. It is also workable on earlier types of Windows like Windows 2000, XP, ME and 98 but requires an installation of the drivers through download or the disk. This Wired LAN Network Adapter is useful for replacing a broken network port using the typical 802.11 wireless network and provides 2-3 faster transfer speeds.
Final Thoughts
This brings us to the end of UtechSmart Best Perform Products which include: the upgraded Saturn Keyboard, UtechSmart Venus High Precision Laser Mouse, USB 3.0 4 Slots Card Reader, UtechSmart USB Bluetooth 4.0 Micro Adapter and UtechSmart USB Ethernet Lan Wired Network Adapter.