Have you ever been disappointed in yourself for not taking the advice of a friend, family member or sales rep encouraging you to shop for a waterproof mechanical gaming keyboard after spilling something on your non-water resistant gaming keyboard? We all know that accidents are just waiting to occur without any warning. So to help, we've come up with a list of the Best Waterproof Gaming Keyboards 2017 down below.
Spilling beverages on your non-water resistant gaming keyboard can lead to devastation especially when you're about to have that long-awaited breakthrough at that final stage of Final Fantasy. I get it, it can be a real sucker punch.  But there is hope with these Best Waterproof Mechanical Gaming Keyboards 2017 that we've reviewed today to get you gaming again in no time!
SADES k9 Waterproof Gaming Keyboard
Adjustable LED Backlight
19 Keys without conflict
Interchangeable "WASD" keys
Constructed with floating keycaps in Gray
E-Element Z-88 RGB LED Backlit Water-Proof Mechanical Gaming Keyboard
Anti-ghosting 104 Keys
N-key rollover
DIY Blue Switches
LED Color customization

OfficeTec Wireless Keyboard And Mouse Combo (KB101)
Reliable 2.4 GHz wireless connection.
Long battery life.
Nine hot keys + Twelve F1-F12 key
Zalman ZM-K650WP Water-Proof Washable Keyboard
Three hydrophobic films repel water
108 Keys
Plunger switch keyboard
Fully water proof keyboard!
Tecknet Premium Kraken 3 LED Illuminated Gaming Keyboard & Mouse Combo
3-Colored LED bright backlighting system
12 Custom multimedia keys
Comfortable wrist-rest
2000 DPI pro gaming mouse

Redragon K557 KAlA RGB Backlit Waterproof Mechanical Gaming Keyboard with Blue Switches, Anti-ghosting 104 Keys
Keycaps never fade
USB gold plated connections
Metal base for durability
Very quick response
Classic click
Pictek Waterproof Mechanical Gaming Keyboard
50 million keystroke tested.
9 backlight effects in 6 different colors
SADES k9 Water Resistant Gaming Keyboard with 3 Adjustable Backlit Colors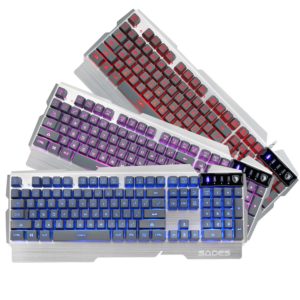 SADES k9 Waterproof gaming keyboard with adjustable backlit colors works on Android, Mac, Windows and even Linux operating systems. The first thing that I would like to mention to you guys or girls,  is this inexpensive gaming keyboard is actually a quality build and will last a very long time especially with the metal plate all around the keyboard making it very, very sturdy.
What it doesn't have are adjustable feet to raise the keyboard for a better typing angle. What SADE actually did was to put a kind of bar at the bottom all across this waterproof keyboard to give it a bit of an angle for gaming or typing.
For such an inexpensive waterproof gaming keyboard you don't get hundreds of features but it comes with 3 different backlit options red, purple and blue. The colors can be changed by pressing the Fn+TAB keys together. To change the different breathing modes the FN+ESC keys needs to be simultaneously pressed. The keyboard is not mechanical and it has membrane keys but it has a nice response to it. The keys are also not super loud when typing. I also like the braided cable they used on the SADES waterproof gaming keyboard making sure that the cable doesn't get tangled for whatever reason.
In addition to the above features you can also expect to interchange the WASD keys while the Windows keys can be disabled for gaming. 13 Multimedia keys are also present for quick access to various functions on the fly and most important is the waterproof design for those unexpected occurrences that may hamper your gaming.
E-Element Z88 RGB LED Backlit Water-Proof Mechanical Gaming Keyboard
Here we have the E-Element Z88 RGB waterproof Mechanical Keyboard and you would probably believe me if I told you that this gaming keyboard is 100 dollars, but it is actually way below 100 dollars. The keyboard is made from Chinese parts and what's really interesting is that this marvelously produced waterproof keyboard is well constructed. It's well made, lightweight and nothing about it screams cheap.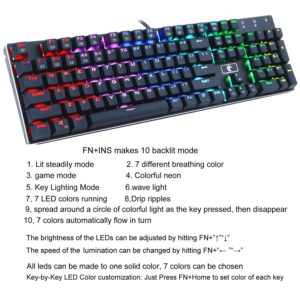 This is a full-size waterproof mechanical keyboard with 104 keys included the Numpad. The bottom has nicely gripped rubber pads preventing the keyboard from slipping in all directions when in the heat of a battle like Resident Evil 7: Biohazard.
With the E-Element Z88 Super Scholar, each key is key is independently controlled by its own switch, optimizing game performance on the go. Well known anti-ghosting features enhance gaming experience without compromising key presses. Custom mechanical switches (blue switches) are designed for longevity, durability and in addition, perform at  a better response rate than your average mechanical gaming keyboard.
The 10 mode RGB backlit customization features lets gamers perform different lighting settings and styles to choose from. These include different breathing options and ripple effects. By pressing the FN+HOME keys gamers can set each color of each key without the need of any drivers to be installed.
The custom made blue switches deliver a good tactile feedback with a clicky sound output. This ultra light waterproof mechanical gaming keyboard also comes with a keycap puller for easy cleaning and 5 swappable keys. The E-Element Z88 Super Scholar is a great starter mechanical keyboard if you don't want to spend over 100 dollars for a gaming keyboard.
Mpow Water-Resistant Mechanical Gaming Keyboard
At number 3 on our list of Best Water Resistant Gaming Keyboards 2017 is the Mpow Water-Resistant Mechanical Keyboard which comes out without Numpad. So this is actually a full anti-ghosting with a total of 87 keys. Even though this has only 87 keys which make it very compact and it has actually a bit of weight to it.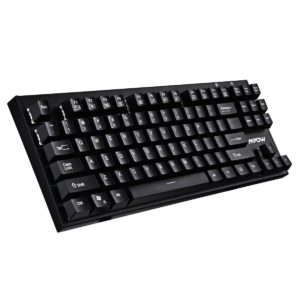 Regarding the keycaps, it is ergonomically designed for finger fatigue during heavy gaming or typing. The keyboard is constructed to withstand up to 60 million keystrokes and is compatible with Windows 7, 8, 10, Mac OS and Windows Vista.
Regardless of a few features that the Mpow Water-Resistant Gaming Keyboard lacks the focus is much laid on the fact that it's portable, small enough to fit limited desk space and the water resistant design. Mpow also promises an 87 anti-ghosting key set and blue switches that deliver distinctive tactile feedback.
Unfortunately, this gaming keyboard doesn't have any backlit keys which may be a bit of a setback for experienced gamers. On a personal note for what it's worth the Mpow Water Resistant-Keyboard gained some good reviews and overall it is a great keyboard in its respective price range.
Zalman ZM-K650 WP WaterProof Washable Keyboard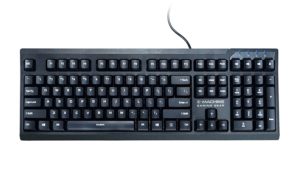 The Zalman Water-Proof Washable Keyboard is a much more standard type of keyboard with the main focus on its unique waterproof design. The keyboard is a lifesaver for those who constantly spill water, coffee or any other beverage while gaming or typing. The Zalman produce minimalist features which include anti-ghosting for up to 26 keys, 1.6m cable length, plunger switch keyboard, windows lock and full key lock.
The all new key matrix technology prevents ghosting when 3 or more keys are simultaneously pressed. Cleaning the washable keyboard is possible due to its 3 hydrophobic films that repel water and protects the hardware inside the keyboard. The keyboard is also made out of rubber domes that are vigorously tested for collapse and defects. Overall the Zalman waterproof Keyboard is ideal for gamers who need a smooth gaming experience without breaking the bank.
Tecknet Premium Kraken 3 LED Illuminated Waterproof Gaming Keyboard and Mouse Combo
Last on our list of Best Waterproof Gaming Keyboards 2017 is the Tecknet Premium Kraken 3 which comes with a gaming keyboard and mouse at a ridiculously inexpensive price tag. This is a perfect gaming accessory for beginners to instantly start gaming. The waterproof mechanical keyboard uses 3 adjustable illumination settings for gaming at night and these brightness settings are awesome. It lights up in the dark for excellent clarity of the keys.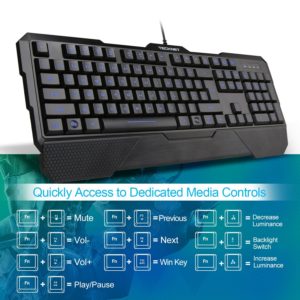 The keyboard also offers 12 dedicated multimedia keys for quick access to specific functions such as the calculator, e-mail, browser and volume settings. You will be able to have  uninterrupted gameplay just by enabling the Windows to disable key that's positioned between the Ctrl and Alt key.
The gaming mouse offers unparalleled precision and deluxe comfort through its ergonomic design that helps eliminate hand fatigue. The mouse also features two side buttons and 6 function buttons and 4 DPI Modes 800/1200/1600/2400 to choose from. This waterproof keyboard and mouse combo guarantees for hours of gameplay combined with its unique style and ergonomic design.
Final Thoughts
This brings us to the end of our list of Best Waterproof Gaming Keyboards 2017 that we've reviewed for way below 100 dollars. Don't forget to check them out while they are still available and affordable. There are so many gaming peripherals currently on the market so we are only reviewing some of the best and most trustable ones like these Best Mechanical Keyboards 2017  and these Inexpensive Mechanical Keyboards.