Many people nowadays prefer earbuds since they are more convenient, more beneficial and definitely more affordable than full size headphones. They come in different types, designs, and colors offering you many options. They also have a wide range of prices. In this article, we are going to review some of the best earbuds under 30 dollars. In fact, some are quite inexpensive and could really be considered the best earbuds under 10 dollars.
Earbuds are also classified into different levels: low tier, mid-tier, low upper tier and upper tier. Their price and features vary in each level. Those on the higher levels ensure high-quality sound output, which is one of the most important things you should consider before buying replacement earbuds.
 Another benefit of choosing earbuds is that they are more portable and comfortable to wear. They can be worn while jogging, biking, hiking, or doing anything without the bulky feeling when you use headphones. They reduce the distance from your ears thus you will experience an improved range of sound. Earbuds are perfect to use in public places in which they do not attract the attention of other people immediately.
There are a lot of new and durable earbuds released annually on the market. Many companies produce different designs that are unique to impress more customers.
Here are some of the best earbuds under 30$ of different brands you may want to check out. We have listed many features from sound quality to materials used. Even though several are not too expensive, they will still be quite durable earbuds. They will give you an idea of what kind of earbuds suits your style when looking for replacement earbuds.
Anker SoundBuds Slim Wireless Headphones
Slim andLightweight (15g)
Hassle-free to use and perfect for jogging, running, or any other activity you want to do.
SoundBuds Slim offers one of the best earbuds under 30 available on the store shelves. They provide you a dynamic performance involving 6mm drivers, which can deliver high-quality sound to your ears through a polished and flawless connection.
These earbuds have a magnet that sticks together when you are not using them.  The EarTips and InEar-Hooks come in different sizes that suit any ear size. The cord is 55cm long that fits general users and prevents bothersome knots. However, you can still shorten the cable length using FitClip. 
SoundBuds Slim is coated with IPX4 nano, which guarantees total protection against sweat or rain. As a result, you can wear these durable earbuds during intense workouts without the worry of being soaked with sweat.
Longer Use and Bluetooth Connection
You can use the earbuds for up to 7 hours. This is beyond the standard usage period of most other earphones, a feature which makes them one of the best earbuds under 30 dollars. They feature Bluetooth 4.1 that can reach and be connected to other devices at a maximum distance of 33 ft. and are suitable for iPhone 7 or any Bluetooth device.
A built-in microphone coupled with CVC sound prevention and remote control offers you a more convenient and versatile use of the headphones. You just push the control button to skip a certain song or answer a call.
 Check out other owner reviews here or:

Panasonic RP-HJE120-PPK In-Ear Headphone
Panasonic is known for producing some of the most reliable electronic devices, including these durable earbuds, which are available in a variety of colors.
You can enjoy listening to your favorite music while running, practicing aerobics and yoga, or doing any activity without the hassle and worry of dropping the earbuds.
The earbuds utilize a 3.5 mm jack, which can be used by all kinds of electronic gadgets, including smartphones, Apple devices (iPod and iPads), MP3 Players and more.
The manufacturers used silicone, a material that gives a spongy foam texture. Silicone is better than the rigid plastic used in the majority of cheap ear headphones.
An editor's pick on our best earbuds under 30 dollars review. You won't find a better design than what the Panasonic RP-HJE120-PPK In-Ear Headphone can offer. They are inexpensive, but still offer great quality.  They come in small, medium, and large sizes for you to experience completely its noise eliminating power.

UiiSii C200 In-Ear Sports Headphone with Mic
Engineers designed the C200 headphones with a touch of a bird design. A  perfect choice of athletes. It is has a unique look from the UiiSii team, making you stand out in the crowd. The device also has excellent technological features producing the best earbuds under $10.
HD Microphone and Multiple Device Compatibility
The headphones include a built-in HD microphone, offering you a high-quality sound. It also sports a 3.5mm interface, awesome remote control. These earbuds are compatible with various electronic devices such as Apple Devices, Androids Smartphones, Windows Phone, MP3/MP4 Player, Portable Music Players, and more.
The headphones' earbuds contain a magnet on its back, so they stick together when not in use. This aids in preventing the cable from tangling. The magnet also enables you to fold the 10mm cable neatly and store the device easily.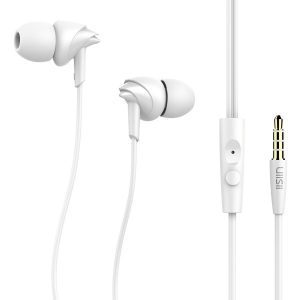 You can use these sports headphones while jogging, working out in a gym or doing any activity with comfort because of its light weight. The device comes with soft and durable earbuds tips you can wear giving a smooth touch to your ears.
The UiiSii C200 in ear Sports Headphones are made of sturdy aluminum alloy making the device the best of its class.
Check out other user reviews here.

ROVKING Over Ear In Ear Noise Isolating Sweatproof Sport Headphones
These sport headphones are one of the best earbuds under 30 bucks and are perfect to wear while running. They come with smaller earbuds as compared to other regular running headphones. You will not find them difficult to wear. Nor will you experience a bulky or irritating feeling even when you keep them in your ears longer than usual. The ear hook wire is also suitable for many ear shapes.
The cable is long enough so that you can still use the headphones while your mobile or MP3 device is in your pocket or bag. It is made of high-quality materials and is tangle-free for easy storage.
Excellent Remote Control and Device Compatibility
You can answer your phone call or choose your desired music by just pressing the remote button while working out. The headphones are compatible with Apple devices such as iPhone, iPod and iPad, and MP3, Tablet, PC as well as Android gadgets.
Light Weight and Sweat Resistant
The headphones are suitable for athletes since it weighs less, and is handy to wear. One thing special in these sport headphones is their ability to resist sweat thus it is suitable for people who do intense physical activities.
ORDER THEM NOW or check out other user reviews here.
Panasonic ErgoFit In-Ear Earbuds Headphones with Mic/Controller RP-TCM125-K (Black)
This is the second entry for Panasonic in the best earbuds under 30 class. It integrates stylish design, comfort, and excellent sound output.
The headphones sport 9mm drivers with neodymium magnets producing a crystal-clear sound while eliminating undesired noise from your surroundings. You can clip the 3.6-feet cable on your clothes so you can move freely.
Earbuds come in 3 options (small, medium, large) that fit any ear size. The headphones feature 5 lively colors, giving you the freedom to pick your desired tone.
Device Compatibility, and Remote Button
It is suitable for smartphones and gadgets. It includes a microphone and remote control intended for Apple devices (iPhone, iPod, and iPad), Android and Blackberry Audio Devices In-Ear Stereo Audio.
  Check out other owner reviews here.

F-HeeBin Bluetooth Headphones
These Bluetooth headphones with durable earbuds are very light. Having a weight of 16.7g making them suitable for physical activities such as running, jogging, working out in a gym or any other outdoor sports. The earbuds are made of silicone gel with a smooth covering making them comfortable to wear. They have ear hooks that secure them from falling.
The headphones can detect a device even at a maximum distance of 33 feet. They are able to connect to two devices at the same time. It is compatible with smartphones, tablets and other Bluetooth devices. These devices connect to the headphones easily and quickly. You will enjoy the excellent clear sound using this F-HeeBin Bluetooth Headphones.
They can defy water through the help of a chip coated with IPX4 nano treatment inside, and a waterproof covering for enhanced anti-water protection. You can still enjoy listening to music in the gym even you are soaked with sweat.
The F-HeeBin Bluetooth headphones have a noise cancellation 6.0 system that can decrease the sounds from your surroundings. It allows you to experience a clear and pure sound from the earbuds' microphone. This alone makes them one of the best earbuds under 30 dollars.
These Bluetooth headphones can sustain a maximum of 8 hours talking time and music time. The standby mode can last up to 180 hours. The headphones will automatically shut down when it reaches the drained battery level.
ORDER THEM NOW or check out other user reviews.

Phaiser BHS-430 Bluetooth Headphones
HD Microphone and Bluetooth 4.1 Technology
The Phaiser BHS-730 Bluetooth Headphones offer potential purchasers an affordable experience of a very clear sound and great comfort. They have matchless magnetic powers that allow the latest Bluetooth 4.1 and A2DP stereo transfer protocols to perform properly. You will come to appreciate the crystal-clear sound from the headphones' microphone even at the highest possible volume.
The Phaiser BHS-430 easliy make our list of the best earbuds under 30 dollars. They are wireless and perfect for running or any other outdoor sports.
You do not need to worry if the Phaiser BHS-730 Bluetooth Headphones do not meet your expectations because you can return them within 60 days from the date of purchase. The price of these headphones is worth it since they include a lifetime sweat proof warranty. You can request for earbuds replacement if your sweating damages them.
ORDER THEM NOW or check out other user reviews here.

TREBLAB XR500 Bluetooth Headphones
Offering a lifetime warranty is a big plus for our 8th best earbuds under 30 dollar roundup.
The earbuds are comfortable to wear. Ear-hooks will secure and keep them in place even when you are doing some physical activities.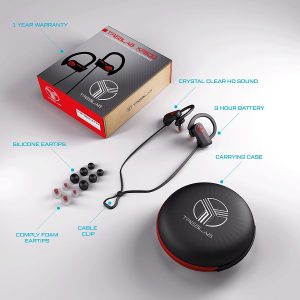 IPX7 Waterproof and Sweat Proof Features
The earbuds are durable due to water and sweat resistant technology. You can wear them in the rain or during an intense exercise without the worry of being soaked with water and sweat.
HD Microphone and High-Quality Sound
The headphones integrate Bluetooth 4.1 CSR technology coupled with aptX audio. You can enjoy real and natural sound from the microphone with very clear and powerful bass.
Noise Cancellation Power and Impressive Remote Button
These Bluetooth headphones have a complex noise blocking ability with expandable foam earbud tips enabling you to hear pure quality sound from it. You can hear the music clearly without any interrupting background noise. These headphones also offer you an easy way of answering and ending a phone call by just pressing the remote button.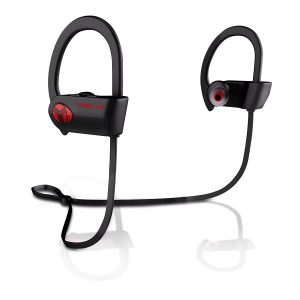 Improved Bluetooth Connectivity and Pairing
The TREBLAB XR500 Bluetooth Headphones provide you a reliable Bluetooth experience. No need to worry about an interrupted file transfer or phone conversation due to the headphones strong and stable Bluetooth's coupling to your smartphone, tablet, TV, or PC. You can pair them to devices very easy and fast.
You can use these Bluetooth headphones continuously up to 9 hours without recharging the battery in between.
Order them here or check out other users reviews.

AELEC S350 Bluetooth Headphones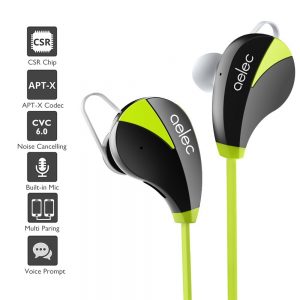 High-Quality Sound and Bluetooth Technology
You can experience a continuous stereo sound with the Bluetooth V4.1+ EDR APT-X audio translator technology and CVC 6.0 excellent noise minimizing system.
The AELEC S350's are quite durable earbuds since they are protected with sweat resistance technology and have a lifetime warranty.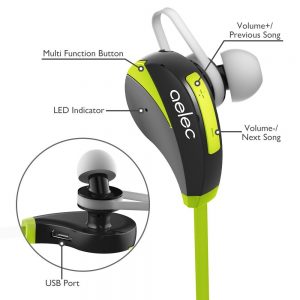 Multi-Device Connectivity
The headphones allow you to connect to multiple devices at a time. You will never fail to answer phone calls or read urgent messages while hitting the treadmill at the gym.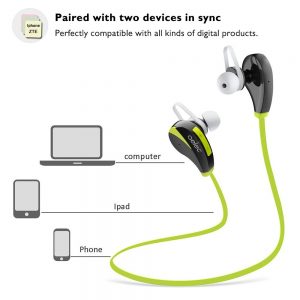 The AELEC S350 Bluetooth Headphones are created with an ergonomic angle. They fit comfortably and snugly in your ears without falling out while you move around like jogging and running.
ORDER THEM HERE or check out other user reviews.

There are 2 magnetic USB chargers that you can use at home and in your vehicle making it as one of the best earbuds under 30 dollars. Charging is very simple.  By just placing the earbud close to the charging pin they unite magnetically and charge.
Great Battery Performance
You can listen to music on the earbuds for up to 6 hours at 30 to 40 battery life percent. The complete charging time is 1 hour and 30 minutes.
**Important Note: Never charge the earbud with greater than 5V output charger.
Precise Fit Earbud and High-Quality Sound
It has an ergonomic angle matching any ear shape. It comes in small, medium, and large replacement earbud tips. The earbud is securely fitted in your ear without popping out when you move excessively. It produces high-quality sound output as well.
You can enjoy uninterrupted music playtime at a maximum wireless distance of 33 feet with the powerful performance of Bluetooth 4.1. The earbud is compatible with the majority of Bluetooth-equipped devices and can connect to 2 mobile phones all at once.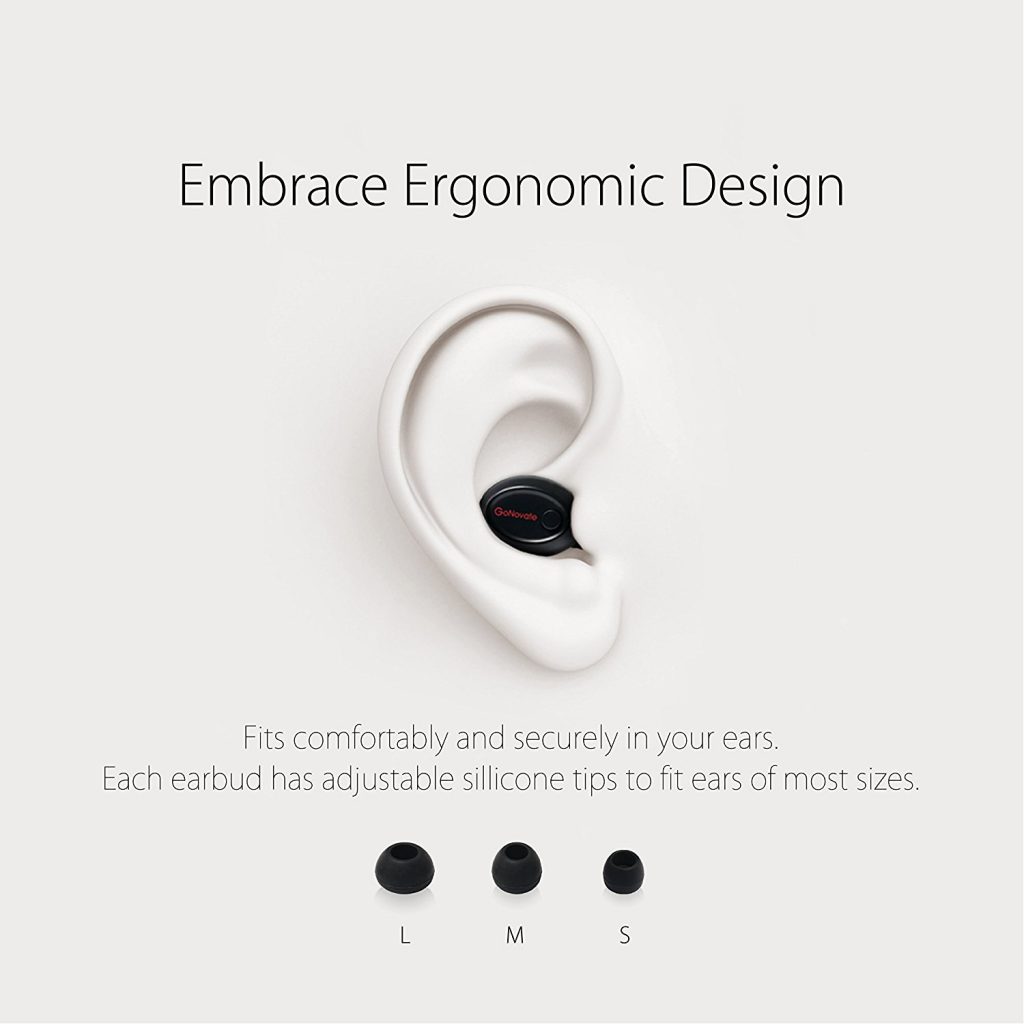 Final Verdict
No one likes paying more than they need to for things. And truly there is no need when you can buy one of these best earbuds under 30 dollars. The earbuds we reviewed provide an excellent value. They have many of the same features and quality of more expensive choices.  So, whether it be your first set or replacement earbuds, give these some consideration before you buy.  Also if you are looking for gaming headsets checkout this article on the Top 7: Best Gaming Headsets 2017 for Gamers here.